10. Alameen Saadina Dantata
Family Net Worth: $470million
He is the son of Saadina Dantata, the founder of Danba Group.
Saadina Dantata Jnr is a fun lover who flaunts his father's wealth on social media, especially of him in the private family jet.
9. Ijeoma Ezeokafor
Family Net Worth: $670 million
Ijeoma Ezeokafor is the daughter of Sir Joseph Ezeokafor, the founder of Jezco Oil.
She is a sister to popular socialite, Jowi Zaza.
Ijeoma holds a degree in Pharmacy degree from Bharati Vidyapeeth and Masters in Industrial Pharmacy from Narsee Monjee Institutes of Management Studies (NMIMS).
She's the founder and managing director of Groovvzie LTD
8. Mohammed Mangal
Family Net Worth: $750million
Muhammed is the son of Alhaji Dahiru Barau Mangal, a business mogul, industrialist and chairman of Max Air Limited.
He is a graduate of architecture and planning at the university of the west of England.
7. Tumininu Okeowo
Family Net worth: $800 million
He is the son of Olu Okeowo, a real estate mogul, philanthropist and the Chief Executive Officer of Gibraltar Constructions Company.
Tumininu studied Civil Engineering at the University of Liverpool. He is currently the CEO of Gibraltar Construction Company.
6. Faridah Folawiyo
Family Net Worth: $900million
Faridah is the daughter of Tunde and Reni Folawiyo, a fashion entrepreneur, businesswoman and founder of Alara, West Africa's first fashion luxury and lifestyle concept store.
Faridah studied African art history at Princeton University. Like her mum, she is also a fashion entrepreneur
5. Oge Elumelu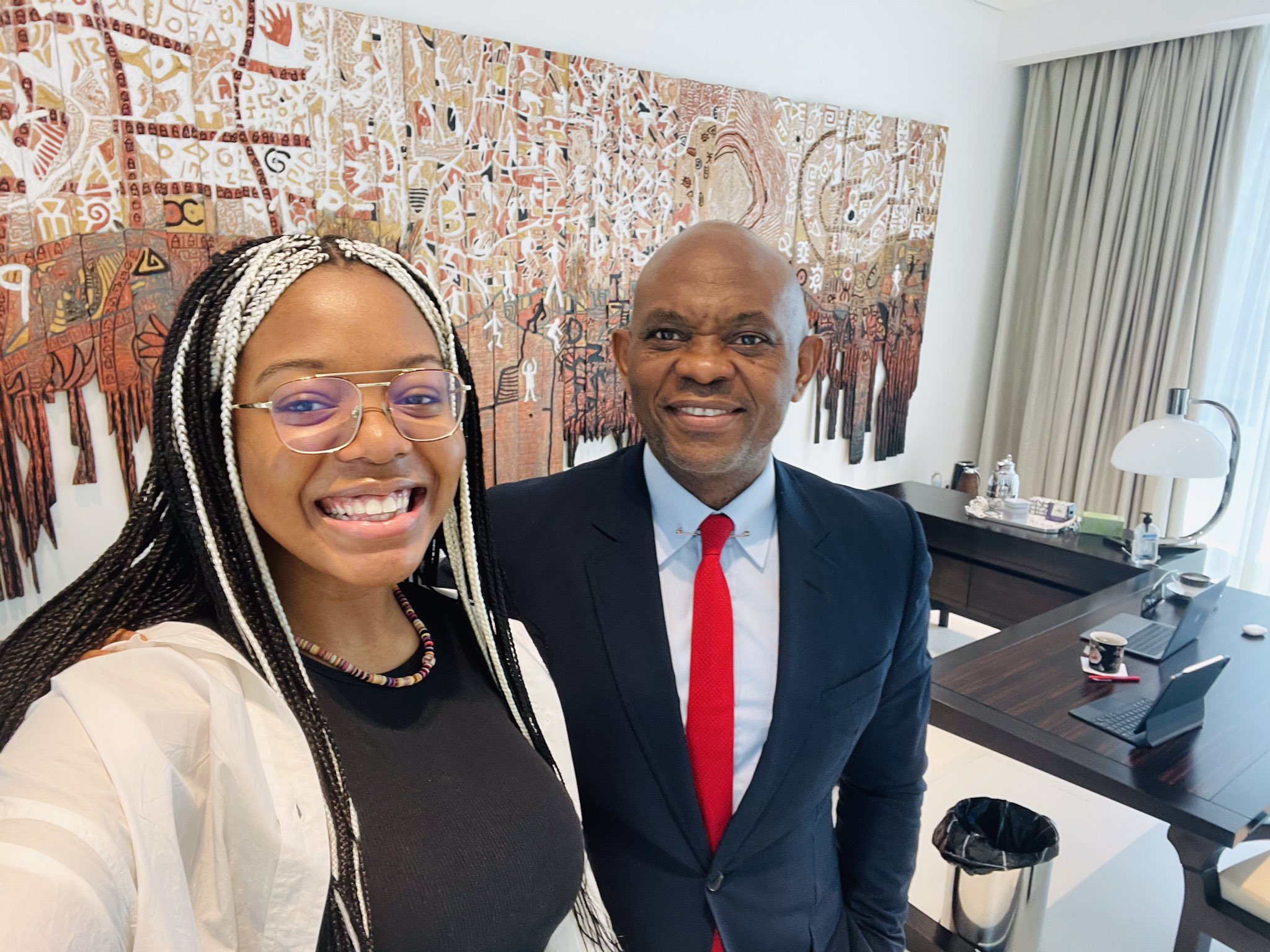 Family Net Worth: $900 million
She is the daughter of Tony Elumelu, the chairman of Heirs Holdings, Transcorp, and the United Bank of Africa.
Oge studied politics and philosophy at the London School Of Economics And Political Science.
4. Mez Bello Osagie
Family Net Worth: $1 billion
Daughter of Hakeem Belo-Osagie, who was listed by Forbes Magazine as the forty-first richest man in Africa in 2014
Mez holds a bachelor's degree in political science and African studies from Yale and a JD from Harvard Law School. She is pursuing her PhD in political science at Stanford University of Humanities and Sciences.
3. Jesse Ovia
Family Net Worth: $1.2 billion
Jesse is the son of Jim Ovia, founder of Zenith Bank. Jesse holds a master of engineering in molecular bioengineering from imperial college London. He is a Finance and Investment Advisor.
2. Adama Indimi
Family Net Worth: $1.5 billion
Adama is a model and daughter of Alhaji Muhammed Indimi,  Maiduguri-based billionaire and owner of Oriental Energy Resource,
She is the founder and  Ceo of Kauna Solution. Travel agency. Adama is also a philanthropist who is championing campaigns on sickle cell.
1. Isyaku Naziru Rabiu
Family Net worth: $8 billion
Naziru is the son of Abdul Samad Rabiu, founder and chairman of BUA Group
He graduated from the University of Hertfordshire, where he bagged a degree in Business Economics. He is the CEO of the Food and Agriculture arm of BUA group. making him the youngest CEO of a multinational company in Sub-Saharan Africa.